My hubby hardly ate chicken, till we were wedded..... But now he is so......... into it..... And me right from the beginning, loved chicken like anything....My dad till this date...taunts me about the way I eat chicken...the way I eat like a pussy cat drinking its milk...with eyes closed...till the last drop... LOL
Now both me & Kuku, indulge ourselves in it every now & then..... Amma, Maa in-law & doctors, ask me to keep a check or control myself feasting on the meat...but in vain... They say it is not good as it hinders my conceiving...But we always savor it till the last piece, like there is no tomorrow........
Hmmmmmmmmm....................can't help ourselves!!!!!!!!!
So when it gets very tempting to eat chicken... we think of something very delectable.... which is The favorite Chilli Chicken.... which is a slight different.... but it tastes yum!!!!! Now what about the main course???? It has to be a full fledged meal right!!!! I then remembered the lovely Instant Ghee Rice, mom had prepared on my
birthday
.... Now! Now! There goes the prep of a full fledged sumptuous Lunch.....
INSTANT GHEE RICE:
Ingredients:
Long Grain Rice (
Basmati
) - 2 cups
Onion - 2 medium, finely sliced
Green Chilli - 2, slit lengthwise
Turmeric Powder - 1/2 tsp
Bay Leaf - 2 pieces
Cardamom - 2 pieces
Cinnamon - 1", 2 pieces
Cloves - 4 pieces
Cashew nut - 20 pieces
Ghee - 1/2 cup
Oil - 1/4 cup
Salt to Taste
Water - 3 cups
Method:
Wash the rice & drain the water...Keep it aside & let it dry....Heat a cooker with a mix of oil & ghee..... When the oil is smoking hot, fry the cashews & keep aside. Then add the bay leaf, cardamom, cinnamon, cloves & saute for a few seconds.... Now add the chillies & onions & saute till the onion turns translucent. Add the rice & saute for 4 minutes, with regular stirring. Now add water, add salt & turmeric powder & stir to let the ingredients blend well. Then finally add the fried cashews & cover it with the lid.... Pressure cook it for 4 whistles. Once the steam releases, open the lid & empty the rice into a serving bowl. Garnish with any garnishing, of your choice....
Now the Accompaniments.....
CHILLI CHICKEN DRY:
Ingredients:
Marination
:
Chicken - 1 kg, cleaned & cut into medium sized pieces (
Legs intact
)
Egg - 1
Curd - 3/4 cup
Food Color - 1/4 tsp (
Optional
)
Edible Oil - 2 tsp
Oil to shallow fry
For Masala Powder Mix:
-
Chilli Powder - 4 tsp
Cornflour - 2 tsp
Cinnamon (
Cassia
) - 1", 2 pieces
Cloves - 5
Salt - 5 tsp
For Dry Masala
Garlic Cloves - 20 pieces (
finely chopped
)
Curry Leaves - 10 pieces
Capsicum - 1 big (
finely sliced
)
Onion - 1 big (
finely sliced
)
Green Chilli - 2 to 3 (
slit lengthwise
)
Ginger Garlic Paste - 1 tsp
Coriander Leaves - 5 to 6 twigs (
finely chopped
)
Cashew nuts - 10 pieces
Method:
Make a masala of the above ingredients & keep aside. Now marinate the chicken with the above masala mix, edible oil, color, curd & egg, & keep aside for one hour....
Now heat oil in a pan or deep bottomed vessel to shallow fry the marinated chicken.... On a low flame, keep tossing the chicken at regular intervals, to avoid it from burning. Once the chicken pieces are done, remove &on absorbent paper & keep aside.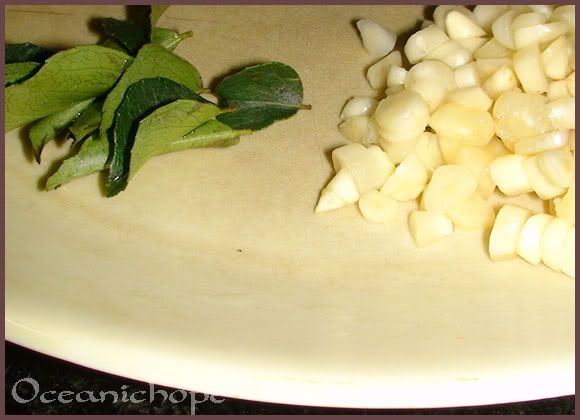 In the same oil fry the cashew nuts & keep aside. Now add chopped garlic cloves & saute till it turns golden & add green chilli & saute further... Then add the onions & capsicum & toss them over...just toss them over regular intervals to avoid them from getting cooked.. They taste better when they are just sauteed. They would be hard & not cooked, which get them to lose their crispiness.... Once done, now add in the chicken, cashew & the left over masala.. that is the left over marination fluids.... to the veggies... That would give the dry masala the subtle taste required....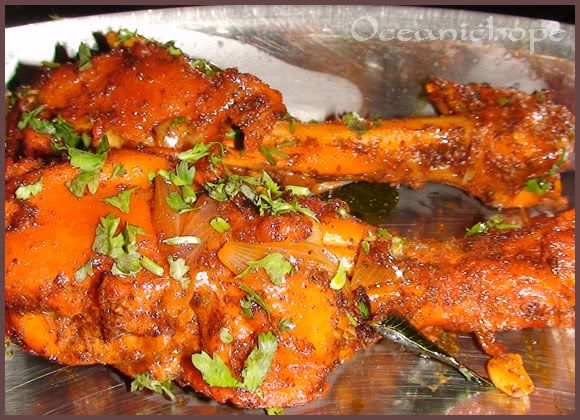 Now mix & toss the entire contents in the pan or vessel for sometime.... Now garnish with chopped coriander & spring onions... & Serve hot with the Ghee rice..... Yummmmmmmmm!!!!!!
You can add another dry item to this meal... !!!!
Generally, I hate the thick flesh pieces of chicken.. I love the bone pieces, with flesh attached, but not the flesh pieces all by itself, without any bones... Hence I separate them & prepare kebabs or 65 out of them.... And that is how I make these pieces edible for me & my family....
KEBAB or CHICKEN 65:
Ingredients:
The hard chicken pieces
For marination:
Curd - 1/4 cup
Food Color - 1/2 tsp
Corn Flour - 2 tsp
Ginger Garlic Paste - 1 tsp
Salt to Taste
Kebab masala or Chicken 65 mix - 2 tsp
Method:
Marinate the hard chicken pieces with all the above metioned ingredients & set aside for an hour. Then just deep fry them. When the pieces are done or turn the Kebab color, just remove them on an absorbent paper & serve hot with the above course.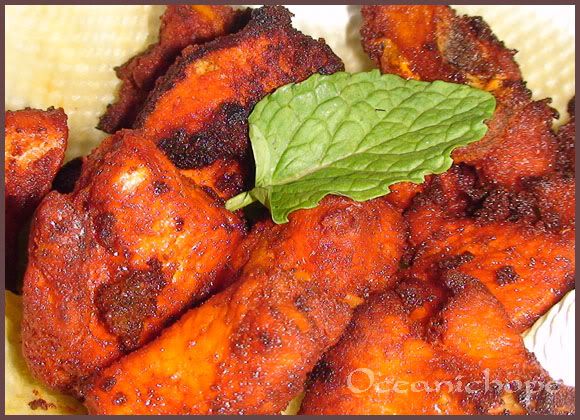 Hence ends the yum & rich affair...... in your tummy.... yummy yummy!!!!!! ;-)
Jane from
JANE MALININA DESIGN
, has these beautiful decal stickers, which I am a fan of.... Hence I'm linking my post back to her, to stand a chance to win one of them....
My favorites are those bugs...real cute ones...
& the other is the Moon Decal Sticker...Oh! how romantic that is...Just like me & my Kuku, how apt would that be for my bedroom....!!!!!!!
(Love Birds romancing....)
(Keeping fingers crossed!!!!)
Beautiful Decal designs, I simply love them.....
Jane Malinina design: I have for you pleasant surprise!