I still remember, mom had stopped preparing mutton at home because of the fat content in it. May be then, my brother & me, were in the 3rd & 7th, respectively. Since then it was only fish on a regular basis. Chicken was prepared to celebrate some important days of our life, like dad & mom's anniversary or our birthdays. It was only during college days, I got to taste the meat again at my friend Sharu's(Sharada) place. I simply loved it. They had it with the raagi (finger millet) ball, what they called as mudde(ಮುದ್ದೆ). Since I was not aware of this meal, I relished the mutton gravy with rice. And I really loved it.
I told mom, & she was like"you would put on weight". Years passed & I married "the Love of my Life -
Kuku
", & I had been to my in-laws at Gaya (
Bihar
) for the festival of
CHHATT
, which falls on the 6th day after DIWALI-The festival of Lights. That was my first visit to my hubby's native. After the chhatt festival I was there for few more days & my sister-in-law(
Vandana Didi - Kuku's elder sister
), prepared mutton gravy for lunch. And believe me it is hard to explain the feeling, you only have to experience it. It was totally yum.
I love my meat (
chicken or mutton
) well cooked.
And the mutton was cooked so well that you take it into your mouth, and it would just melt away down your throat. Leaving the juice of the meat on your taste buds. And that too, to sit together with all the four sisters (
Nanads
) & Bhabhi (
Rita Didi- Co-Sister
) & eat from the same plate, added all the love & happiness to this preparation. Oh! what a taste to relish. Since then I fell in love with this meat. I kept telling everyone about this pleasant meaty & juicy experience.

Good meat well cooked - is heaven.
A year back, I was watching this particular cookery show on the channel 9x, "Rasm-E-Rasoi", & the Anchor chef prepared some mutton preparation, & thuranth hamara mann kar gaya khaane ko (
थुरंथ
हमारा
मन्न
कर
गया
खाने
को
) & I told Kuku that I wanted to try preparing mutton gravy & he obliged & said he would help me with that. And that was the first time we prepared mutton at home.
We prepared it the way they prepare at my hubby's place. And guess what, it came out really well & very much yum. I took a little for my mom & she loved it. Though we are all reluctant, to eat mutton because of the "fat", just cannot resist the taste of it. We prepare mutton once in a month or once in two months or sometimes even in four months. And we all love it.
Since my brother got married just recently & we had to invite the couple home for lunch, we thought it would be best to prepare mutton for the newly wedded couple, as his wife is from Mangalore & has not tasted the typical Bihari non veg preparation.
Out of the mutton that we got, I kept a few piece aside (
a small bowl of 6-8 pieces
) & prepared the gravy.
That came out yum....as my Sis in-law had prepared
....... Okay! so where was I ????? Haan, yes, then "
ting
" came the thought of trying out Mutton Pulao. My hubby said no, as we had very few pieces of the meat, but then I told him that was amount I wanted. Like the Hyderabadi Biryani that they serve in hotels, which has just a piece of chicken in it & the rest is rice, I wanted to prepare something similar to it. A very simple Mutton Pulao.
Regarding the gravy, I would write sometime later. Right now let's go ahead with our simple MUTTON PULAO.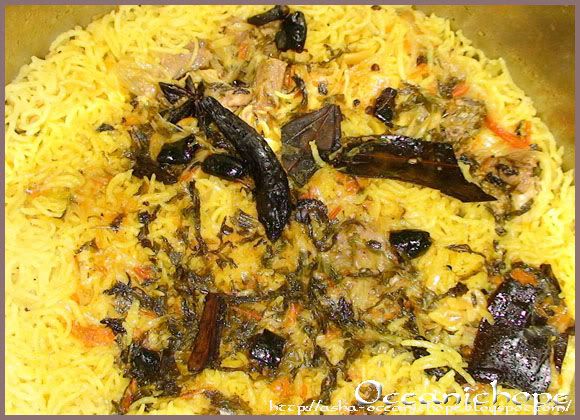 Ingredients:
Basmati Rice (
Long Grain Rice
) - 4 cups
Mutton Pieces - a small bowl (
8 pieces
)
Onion - 2, chopped lengthwise
Whole Red Chilli - 2-3, Broken
Cloves - 2-3
Cardamom - 1-2
Cinnamon - 2-3, 1 inch piece
Tomato - 2, finely chopped
Cashew Nuts - A morsel or 9-10
Bay Leaf - 2-3
Curd - 1 tbsp
Salt to Taste
Ginger Garlic Paste - 2 tsp
Turmeric Powder - 2 tsp
Oil or Ghee - 4 tbsp
Mint Leaves - A cup, washed & chopped finely
Coriander Leaves - A cup, washed & chopped finely
Anise Stars - 2
Black Cardamom - 1
Method:
Wash & soak the rice in water for 5-10 minutes.
In a deep bottomed vessel or a cooker, heat some oil & fry the mutton pieces with a little salt & turmeric powder. Then add enough water to cook the meat & cover the lid & let the whistle blow for 5 minutes. Since the mutton is a bit hard & not tender as the meat of chicken, it needs this extra cooking to see that it blends well with the rice.
Now place another pressure cooker on medium flame. Pour oil or ghee into it. Once the oil is hot drop the bay leaves, cinnamon, cardamom, stars & cloves. Once the spices leave their aroma, add the broken chilli & onions. Fry till the onion turns translucent. Now add the ginger garlic paste & stir fry for a couple of minutes. Now add in the cashew nuts & let it fry along with the other contents. Then add the chopped tomatoes & fry further for another couple of minutes or till the tomatoes look tender. Now add turmeric powder & salt & saute for 2 minutes. Add the chopped mint & coriander leaves & saute for 2 minutes. Then add the curd. Mix well & see the masala change color.
Drain the water, & add the rice into the cooker & stir fry for 4-5 minutes. Now add the cooked mutton pieces & stir fry for a minute. Pour enough water, to cook the rice appropriately.
PS:
Usually for plain rice, the water is in the ratio 1:2. But for any rice preparation, reduce the quantity of water a bit so as to not over cook the rice. Hence the ratio may be 1:1 1/4 or 1 1/2.
Cover the lid & let the whistle blow for 4-5 whistles. Once it has cooled, just mix the preparation lightly, taking care to not break the rice. Serve the steaming, yum mutton pulao with any kind of raitha or with any gravy.
Relish the pleasing aroma with the pleasing & rich taste of all the ingredients.........
THIS POST HAS BEEN RE POSTED, to send it, on its way to the 'MUTTON SERIES', held by
Srish Kitchen
......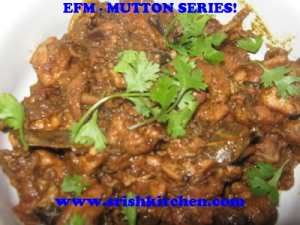 And this teasing Pulao.... that is the 'Mutt' 'on', its way to find its place in the series...... Thanks to Srish Kitchen for the "EFM Theme - Mutton Series"...... Following this may be the Yum gravy............toooo....... ;-)
Happy Celebrations!!!!! Cheers To All!!!!!

PS: (If u have not collected the Cheers token from my previous Post..... Then Please Do.... What r u waiting for ......????? CHRISTMAS ??????? ;-))

Until next.... KEEP THE FAITH!!!!!!!!!!!!!!!!!!!!!