I thank every one of you, who showered your love & wishes on me & my previous post...... Every single mail I read, made me jump with JOY!!!! It made me start my day with lots of happiness & cheer....... The happiness lasted on my face & lips till the time I went to bed at night, in the form of a smile...... Kindly accept my sincere THANKS.... ALL!!!!!!!!
And as for my story further, I would write about it later... sometime..... I surely will..... as I enjoy sharing my ONLY & MAJOR achievement of my LIFE....
I would like to congratulate Priya of
Priyas Recipes
on her 200th post..... & thank her for sharing this beautiful TOFA...... as a memento, of, her time of celebrations....... Thank You & God Bless!!!
Recent days I've just been spending time
Blog Hopping
& browsing many more interesting sites ..... I came across many Indian bloggers who were into arts & crafts too.... I was so thrilled to encounter their works..... Works of art & joy..... So I was kinda busy & engrossed in enjoying their master pieces..... Meanwhile I came across
few challenges & events
too.... Hence thought of participating, too..... So this post of today is basically just that..... but all that, with all those awesome challenges ...... ;-)
And hence participating, for the first time, as far as craft was concerned, I clubbed two of them in one of mine.... Because of my recent card making spree, at its heights, I was swayed by these challenges..... It felt like they were at open just for me...... What more.... without wasting a moment.... I indulged myself in a simple card for the occasions......
One is the
Black & White + 1 challenge
by Michelle of
Scrappy Hours
& the
Other is the
Get Well Soon challenge
by Paula of
Creative Card Crew
......... It is like the creative card crew are up for some scrappy hours.... together...... Hmm.... I like it..... So it is the Get Well Soon with a color theme...... rather a color-less theme, easily conveying, misses & kisses to the person down in health............. :-)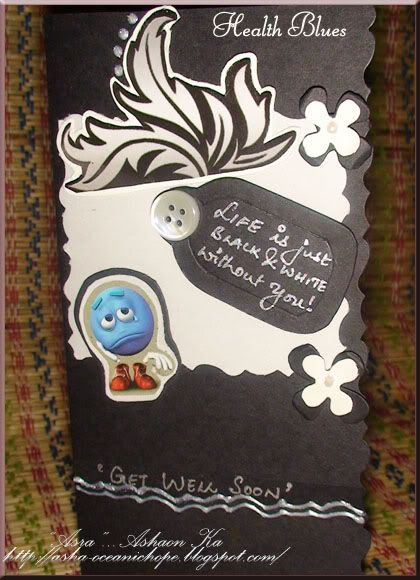 Find a place there for yourself my deary '
first challenged creation
'!!!!!!! TATA!!!!! ;-)
I also came across this unique event called
'THE NO COOK EVENT'
.... which I found very interesting, because of its name & theme..... My past as far as cooking is concerned has been really bad.....
When I started working, before seven years, I got really exhausted with my timings & traveling...... And after I reached home, I went to bed with my odd working hours.... As soon as I woke up, I got ready for my next shift..... Within no time, my cab was ready to pick me up.... And went the 4 hours long traveling, both to & fro...... I used to be a
dead meat
:-( by the time, I reached home...
Hence was my routine for a year, as I was in a Graveyard Shift (
night shift
)..... I never ever cooked at home.... My hubby managed out & me at my work place...... The only thing we prepared at home was hot beverages, Tea or Coffee...... Or just boiled water...... Sometimes, 2 minutes Maggi.....too....
During my offs I was way tired & exhausted & only wanted to spend my time with Kuku..... So always ended up ordering food from food joints & Pizzas from Pizza Corner, or for a change went to mom's place or she packed, parceled or sometimes delivered food home.....
On the whole our daily bread was from or at daily eat-outs.....
So with this kinda routine, my first cooking gas lasted for a year or more.....
People would be surprised to see that themselves or when I tell them this, which was a fact.....
But after a year, I got my timings changed to a day shift..... which changed my life & routine for good..... To a certain extent, I started preparing meals at home.... I prepared for Kuku & sometimes for my lunchbox too..... I loved it.... I felt more like a married woman, then.... A responsible homely lady....... But even then I did escape cooking many a times due to exhaustion........
But now past 2 years, after I quit my job..... I am the most happiest .... I loved cooking for Kuku & me.... But this became more interesting only after I started off with blogging.... In order to post my preps, I would always discover & look out for varieties.... My hubby is happy, as he gets to taste varieties at home now.....
He is 'all thanks to my Blog'
!!!!! But still there are days, when I try to escape this routine.... & hunt for some no cooking involved meals or portions of food to just satiate my appetite......
Me, cooking for myself!!!!!??????*****
, would be the last thing I would engage or involve myself in.......
I prefer to take a corner & cry for no reason than cooking for ME!!!!! Upphh!
And while doing this, one day when Kuku was late to return home & I was hungry..... My eyes fell on the
bananas
I had in my fruit bowl....
I don't like them until & unless I am suffering from cold
..... The thought of the Prasad I ate as a child, at a temple near by, crossed my mind..... It was a simple & yummy prep, but I loved it a lot in the form of
Prasad
(
DIVINE FOOD
), to which they added a dash of honey..... So I made it without honey& had it too, to satisfy my hunger pangs then.....
This is what it is .......
Bowled Banana
..... Yes! as the name suggests... it is....... No No! U don't make a bowl out of a banana but simply cut them & transfer into a bowl....... YES!!!!! It is a kind of banana salad, if you may call so or simply is a banana bowl.....ho! ho! & this is how it goes......
Bowl-ed Banana
Ingredients:
Ripe Banana - 1
Dessicated Coconut - 1 tbsp (
fresh or frozen
)
Sugar - 2 tsp or as desired
Method:
Peel the banana, but of course, & cut them into rounds. Transfer them into a bowl. Add the dessicated coconut in & sprinkle sugar...... You can either leave it for sometime for the sugar to dissolve or have it as it is, if you enjoy the sugary bits & bites......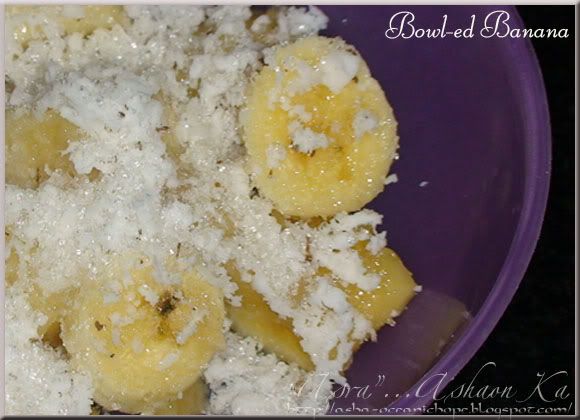 So you see, without really getting into the kitchen, you can have a healthy, nutritious & yummy bowl of energy..... Hmmmm..... I surely cooked a No Cook meal for the LOVELY ME & this makes its way to the
' NO COOK'
Event held by PJ of
Seduce Your Taste Buds
..........
That is all for now.......
UNTIL NEXT, KEEP THE FAITH!!!!!!