I have quite a few things to share today...... Other than my all time sadness, I have had lots of happy moments & treasures...... A milestone, an anniversary, many appreciations & of course my 'card making' passion with cards for occasions....... MISSION ACCOMPLISHED!!!! but truly, leading to many more such missions.... of course to be accomplished...... which I will for sure....... I just pray God for patience & courage to bear all the miseries & for more LOVE ..... ALL MY WAY..... by my one & ONLY Kuku........
ASRA PANTHIS :

I have just accomplished a triple number in my PANTHIS........ which I am very happy about..... That shows my work has been widely appreciated & liked by many, unknown till then, but now part of my life as a blogger....... And that is sheer MAGIC!!!!!!
TOFAS :
I have been remembered by many blogger friends during their felicitations..... It really means a lot to know that I am being thought of too..... & so is my work. This was like I had been flooded with appreciations......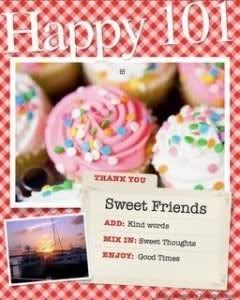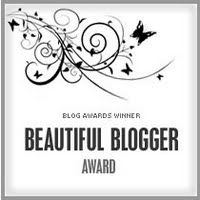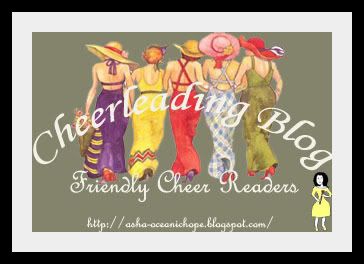 I thank Neethu Binoi of
Kitchen Express
for that love she conferred on me through all these tokens of love..... Thank You Neethu & may God Bless you with more happiness that you spread through your cheers..... (
Kreativ Blogger, Happy 101, Cheer Leading, Beautiful Blogger, Blog Loving & Smart Blogger
)
I thank deary Sarah Naveen of
Vazhayila!!!
for again remembering my work & me during the occasion of TOFA distribution........ She shared her
Blog loving & Smart Blogger
TOFAS with me.... Thank You Sarah!!!!!
I thank Jisha of
Jisha's Kitchen
for inspiring me with
smart blogger & tagging me
to thank the one who gave me this, Which I am from all my heart & to pass it on dearies around, which is following this THANKSGIVING...... :-)
I am grateful to Devi of
Freshers Cook Book
for inspiring me with the
Kreativ Tag, Thank U & Smart Blogger
...... Hmmm....as far as the
tag
is concerned, you can know me
HERE!
& I am really thankful for considering me worth of these beautiful TOFAS......
I would love to share ALL the above with & spread cheers to my fellow bloggers, as well.........
Ramya Manja of
Veg Delicacies
!!!
Chitra of
Ratatouille
Cool Lassi of
Pan Gravy Kadai Curry
Suparna of
Food Fascination
Pari of
Foodelicious
Sushma Mallya of
Authentic Food Delights
LG of
Taste of Mysore
JGH of
Nyack Backyard
Ambika of
Ambika's Kitchen
Dolly of
Curry & beyond
Anu of
Anu's Yummy Recipes
Rashmi of
Abhi-Ruchi
Ruchika of
Ruchika Cooks
Aruna of
Aruna's Tasty Bites
Brandi of
Queen Of My Kingdom
Fimere of
Aux Delices Des Gourmets
Itabira of
Magia Da Ines
THANKING ONE & ALL...... I REQUEST U TO KINDLY ACCEPT THE
TOFAS (Tokens Of Appreciation) & spread the cheers
around...... this Valentines Day!!!!!!! :-)
And as I mentioned in my
prior post
, the special Hobby interest that I wanted to pursue seriously, I was kinda successful in doing so...... February 12th, was my Dad & Brother's Birthday...... Yes! Both on the same day..... Very unlikely though...... So I made some gifts for them all by myself...... What I made????? Hmmm.... I made a lovely card, a CD pouch & an Envelope Holder to hold them both.....together......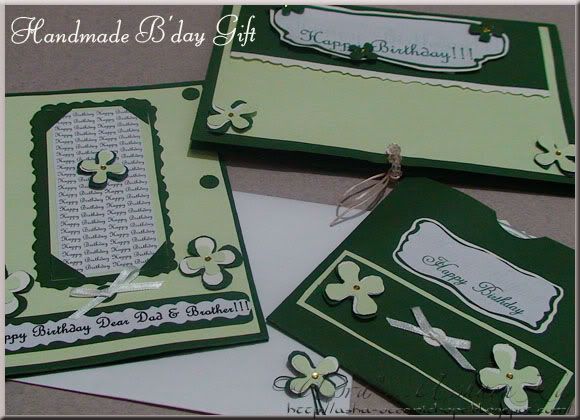 As one of my favorite pastime is watching & enjoying old movies, I had picked up this movie of the 70's
MUKTI
a hindi film...... Starring Vidya Sinha, Shashi Kapoor & Sanjeev Kumar...... The movie adorned awesome touchy compositions sung by Mukesh like Lalla Lalla Lori, Suhaani Chaandni Raatein & Pyar Hai Ik Nishan Qadmon Ka sung by Mohd Rafi...... Very meaningful, very touchy & full of Love...... Oh! these melodies make me believe that I am alive...when I am totally drowning in my sadness caused due to my HEALTH ...... And I remembered my dad mention it long time back, that he liked & wanted it. So, I thought why not gift him with a copy...... So there it went into the CD pouch.....
The card was for both of them..... & the CD for dad......
He called me up to say he was totally impressed by my creativity, which were his exact words
..... I was happy that it served my purpose of making him feel so..... I did not have anything else for my brother, I found the Maggi Pasta on my table..... I did not know if he had tried it or not.... Thinking he would like it, packed that along for him.... So there went my handmade gifts for the birthday boys...... ;-)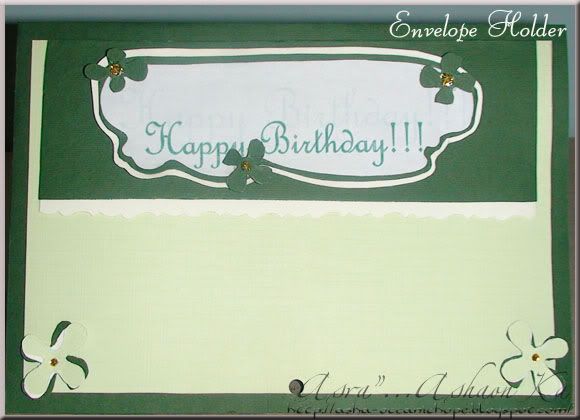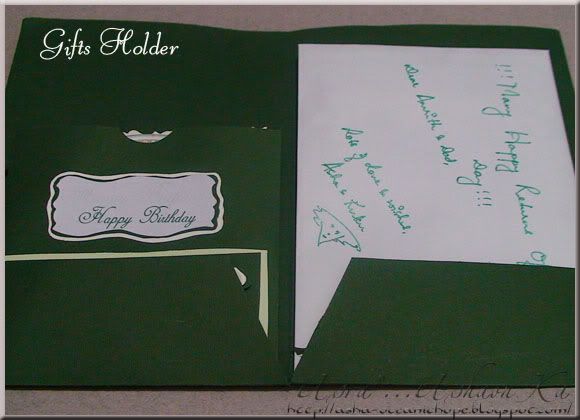 VALENTINES DAY!!!
Today is February the 14th of 2010........ I know it is special to many, or rather all...... But for me it is a part of my life.... It
WAS
my past....it
IS
my present &
IS
my future too...... This Valentines, we ...... (me & Kuku, of course!!!!) complete
16 years of OUR relationship
...... The very thought makes me feel proud...... It means a lot for those who believe in relations & its values..... Hence it means a lot to me.....
Asra Ashaon Ka..... Ek Chotisi Love Story!!!
I still remember the day..... It is still afresh..... I can still smell the freshness of the paint.....
I was an adolescent & so was he..... I was 18 & he was 19...... He came down to our area to reside with his flatmates.... When they were shifting themselves in..... a house beside mine..... I wanted to check out as to who & how they were..... I just went out casually drinking water from a bottle.... I saw few guys shifting their things in..... one guy among them looked up at my balcony & signed the other who stood with his back towards my house..... The guy who first saw me was......... nope! not Kuku..... He was Subhdarsi Mishraji.....
The guy he signed at was Kuku
, who turned immediately to check me out.... I kinda felt nervous all of a sudden, looked elsewhere taking care of my myself & ran in.....
Later saw through the window & realized that he had booked the window & the room just beside..... which was direct view to each others place if I opened my ground floor living room windows...... I thought Hmmmmmmmm...... Okay.... Clever!!!!! We exchanged glances, now & then..... but I did not seriously feel anything about it..... U know!!!!!
I had 2 Mangalorean kids in that same building where my new neighbor nested, but, on the top floor..... So either me or my mom or sometimes both, made frequent visits to their place..... On the way I had to pass this new neighbor's window or rather their
Jharonka
...... Again it was just exchange of glances, which meant nothing.....
He was the kind who was bossy & every single chap in their house would look up to him for .... be it..... anything..... He was the one who always took a lead..... There was a bike with 2 names painted or stuck, to either sides of the seat.... One SONU & the other KUKU.... I always wondered what this guys name was & to whom the bike belonged.....
The YAMAHA RX100,
which was hot & popular in the 90's...... I kinda liked the look of it..... small & cute..... I then kept a check to see who rode it more & that was him.... Now I wanted to know whether he was SONU or KUKU.... Once as I was just talking to the Aunt who resided above his place & told her about the unusual but cute names on the bike..... same time, he was there to ride himself out somewhere & that was when I uttered the names..... He did not react with SONU, but did look above when I said KUKU..... &
that was a confirmation that he was KUKU
....... Hmmmmm......
& I liked it.....!!!!
He always played beautiful old numbers, which I really enjoyed..... I had a collection too because my dad enjoyed them, at home..... So I flaunted my collection too..... Since we both liked the beautiful romantic songs or even pathos,
we did exchange cassettes
, through my brother of course ...... but my mom felt irritated because they always played them ALOUD...... she did curse them many a times because of it....
Somehow she learn't his name & would shout often
"Ranjit!, zara volume kam karna.... Bachche Padh rahe hein"
......
I enjoyed these moments
.... Once he asked me to lend him a Lata Mangeshkar hits & I was like.... '
A Very Clever Young Girl
'
asked him if that was an excuse for him to talk to me or even befriend me..... to which he said he genuinely wanted it.... I was like "CHOR"
.... but that was just a thought that crossed my mind.... & I lent him the cassette......
That was when we spoke to each other for the first time..... which I quite liked.... the way he spoke crossed my mind every now & then.
.....
And then he would try his best to make use of the moments on road...... Once when I was on my way to my computer class...
First Computers at Navrang
.... I waited for a bus, when he stopped by, offering a lift..... to which I was like
"NO THANKS! I prefer going by bus"
& then fled by getting into the next bus that came along..... After I reached the place, I confessed about this incident to my then friend, VINUTHA...... And she was like
"do not fall into this.... it is a trap..... These Biharis would just play with you & your emotions, catch the next train & off would they
vanish from here....leaving you with all the sorrows & miseries later"..
... I felt that right too..... My dad was very strict & short tempered..... who would just kill me if he got to know about it..... So I stopped &
dropped, even the faintest thought
of it...
It was next year the 1994....... and I was eagerly waiting to watch the new release
'HUM AAPKE HAIN KAUN'
..... & I did..... with my family of course..... We always watched movies like a team..... together...... me, mom & my brother..... I loved it a lot.... We never watched with anybody else, but us three..... By night, I went out to lock my gate & balcony as usual..... when I saw a large crowd..... guys out having fun, yapping, shouting out the name RANJIT, when they saw me..... They went on asking the birthday boy to come out, wishing him on his day & asking me to wish him too.....
Why would I wish strangers?????
I just registered the day in my mind & came in..... Hence I remember the day I watched HUM AAPKE HAIN KAUN, very well..... The 4th of January, 1994
.... The day this handsome was born..... may be for me.... I just thought then, but was not sure & did not wanna believe it too.....
After few days, one night when I was out to lock my gates, he approached me with a card & I thought, it was not my birthday, then why was he presenting me a card..... I never knew that there were cards meant for proposals too..... I rejected & told him I did not want....
like he was giving it to me for I wanted.....
How Dumb!!!! of me..... My mom saw this through the kitchen window & questioned me as to what he gave..... to which I denied & lied that he asked me if I wanted the cassette back..... My mom without wasting a moment, went barging at his door, asked for him & threatened him to stay away from me & how short tempered my dad was & what position he was in, professionally.....
Poor him!!!!!
Next encounter was when I went inviting few peeps in my lane for my brothers 'Birthday get together'..... As I was doing my rounds, he made his entry somewhere on the road, stopped by asking me if he was invited too...... to which I replied.... again like a clever one
" Sorry! Strangers are not invited...." Ha! Ha! Ha!!!!!! How thoughtful!!!!!
Poor him, he just went away 'mayoos'
...... again......
I always checked him out at nights through the window...... All hush hush!!!! Chori Chori Chupke Chupke!!!!! To just see what masthis they were all up to.... as we, me & my brother never engaged ourselves in any such light, hearty, bindaas, fun filled Masthi moments.... So I enjoyed watching them have fun playing, eating, yelling at the top of their voices & pulling each others legs..... & laughed at their light moments.....
Then it was the 14th of February..... Afternoon after college, I was at home & saw another guy named KUNDAN Dubey ji get a rose.... I wondered as to whose birthday was it now..... & went to eves drop at my window.... at the first floor living room..... I could see everything inside from that height as they resided on the ground floor..... I saw Kundan ji, give the rose to Kuku.... I wondered why!!!! & then thought may be somebody's birthday there.... & just went away..... That evening when I went to the kids place to drop them back at 8:00 pm, Kundan ji was on his way down from the terrace.... he stopped to tell me that Ranjit looked forward to see me on the terrace..... I was kinda scared, but with all the courage thought
he would not eat me up for sure.... lemme check what he wanted
.... Dropped the kids at their place & instead of making my way home, I climbed up the stairs to the terrace..... And there he was standing alone in the dark
& welcoming me with a rose in his hand..... He offered me the rose to which I said it was not my birthday..... & he said he just wanted to give it to me.... to which I said a surprised okay & accepted.... He wanted me to meet up with him the next day at Honey Bee.... Popular Bakers nearby.... We discussed how, when, where, pros & cons..... & I then accepted to see him the following day at the bakery..... later I gave him back the rose & left....
what would I tell mom about the rose
...... I could have told her that i got it from the kids home or something.... but as I was guilty & scared did not want to risk myself....
It was the following day that I looked forward to; to see him.... Which i thought he would just drop me to my class, but he instead got me to bunk my class & took me to the Sankey Tank..... where we sat together, he uttering something, trying to know me & me busy with my dairy milks that he got for me..... licking every drop of the melted chocolate..... That was how I was.... Kinda DUH!!!! It was only then I realized that the previous day was called VALENTINES DAY & I was on a DATE with KUKU...... VOILA!!!!!
But still it did not mean much to me till a few days later... one night when I watched him down through my window.... I saw him studying & all of a sudden he pulled out a card from his book, looked towards my house & kissed the card deeply.....
That was THE MAGICAL MOMENT
..... The moment that changed my LIFE....my feelings for him..... Spontaneously without any thought, looking at what I saw, tears rolled down my cheeks...non stop...... I realized that it was the card that he wanted to give me, when I rejected........ I was so touched & believed in him..... his feelings for me & his LOVE...... Even now as I am punching these words, my eyes are filled.... I can feel that moment... Very touchy & exciting!!!!!!! That was when I FELL IN LOVE WITH HIM!!!!!! The one who was meant to be mine..... for this life & others to come......
It was meant to happen.....
Because we were from two different corners of this country, He from Bihar & me from Mangalore..
... If we were not destined... we would not have met..... Neither his parents would have sent him to Bangalore for further studies, nor would he have come to nest, beside my place, as his college was far far away...... He came here because he wanted to be away from the college crowd to concentrate on his studies.... & meanwhile found me to concentrate on...... ;-)
That is the end of this episode, to be continued further later.....
as it is rather very LENGTHY... It takes time to, have to punch in, all those 8 years of factual story.....
before wedding...... ;-)
MY FIRST VALENTINES DAY, MY FIRST PROPOSAL & MY FIRST DATE!!!!!!! I would not call it perfect because I was not in my senses..... meaning I was not aware of all the happenings & the magic of those moments, as I am now, to have enjoyed it the way I would now..... but still I love & treasure it because I was a total DUH! or an adolescent who was not aware of all these moments & what they meant........
So that was my first DATE, who I have been DATING till this day....... & forever would.....
I feel so happy about my 16th anniversary of togetherness
... I love, respect & enjoy his unconditional love for me...... Nobody loves me the way he does.... He makes me feel special always..... No tags attached.... I know we would be together FOREVER.... as even death would not be able to do us apart.... as we would still find each other besides......
That is the TRUTH of 'OUR' LIFE!!!!!!
I only made a card for him as I could not go out & get him something..... I loved what I made.... I gave it to him exactly at 12:00 am......
Wishing him on our 16th Anniversary of togetherness....
He totally loved it..... He just kept looking at it & was so happy..... & said...
"Meri baabu mein to talent khoot khoot ke bhara hua hain"
....... Hmmmm.... as always..... & I felt proud & happy again..... So here is the card......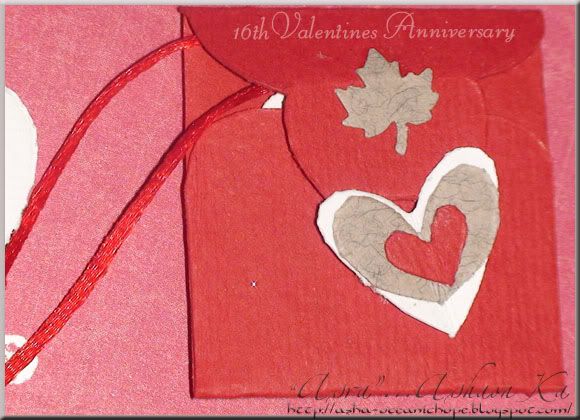 Hmmmm..... That was celebrations of the Valentines Day from my side...... Why don't u share the same with me too????? Come on I would love to hear..... But true stories, with its sanctity..... Not some pastime...... I value the worth of everything on this earth...... So let us paint the BLOGGYWOOD red, & allow it to drip love, in every word & statement...... in the BLOGOSPHERE.............
WISHING YOU ALL A VERY HAPPY VALENTINE'S DAY!!!!!!


UNTIL NEXT, KEEP THE FAITH!!!!!!