I received the 'Sanjeev Kapoor's Party Cooking' I won, yesterday..... I was so happy.... to have received it.... Wanted to try out something from it.... But I will & post them, for all.... The courier guy who delivered it was funny.... He dropped by, early morning say about 8:30 am.... Usually not the time for couriers.... so we were kinda surprised..... He talked with a funny tone.... And as soon as my hubby was out to collect it..... he asked Kuku "Sir, naayi unta???" (Is a dog there???) ... My hubby was like "hmm???" He repeated himself asking the same.... & Kuku 'pounced' on him, literally, with his not so perfect Kannada "Yaake??? " (Why???) That lean, almost vulnerable guy, freaked out by this, answered "summane kelide sir.." (I just asked!)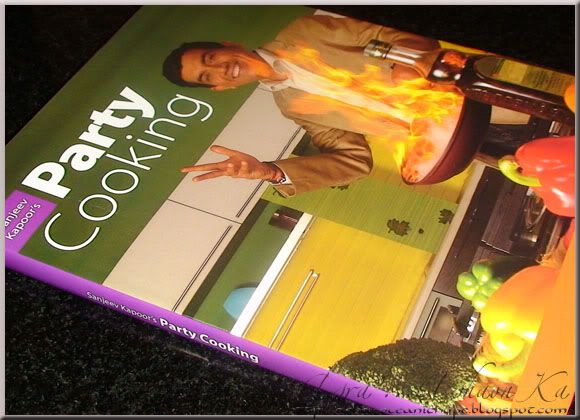 This encounter with him (the courier guy) was funny, firstly because of his voice & tone & secondly because he was totally unexpected both in person & his unusual questions.......
SO I WOULD REMEMBER THIS BOOK FOR ALL THE UNEXPECTED FEEL & LAUGHS involved.....
Thank You again, FOODIE BLOGROLL!!!!!!!!!
for letting my shelf adorn another pricey possession....... :-p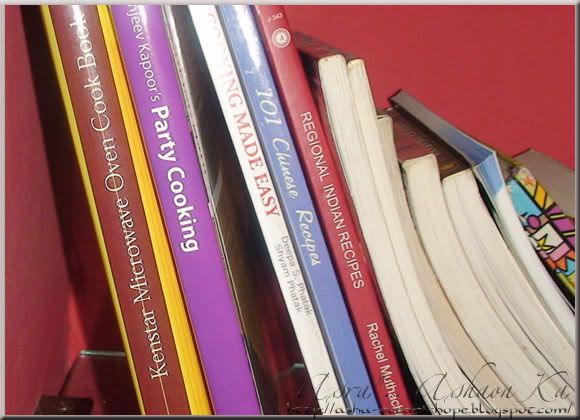 And yes! regarding the prep I'm posting, this is one easy, yummy, healthy, enjoyable & 'at any circumstances' food, which takes no much time & effort...... CONVENIENT!!!!! I say this because, this is one prep that Kuku had been enjoying during his school days.... (
without me of course!!!!!...MEANIE :-0
) Maa in-law prepared this instantly for his tiffin or break fast, with LOVE & CARE .... This Parata, is delightful with or without any accompaniment...
Since Kuku & his siblings were totally 5, who went to school together, sometimes when in hurry, maa in-law packed bread omlette or bread & jam, for tiffin.... But with the kind of food the kids were used to, it got their hunger pangs to strike them hard, very soon after lunch.... And they would be lured by these road side stalls, with their not so healthy, unhygienic foodies....... Hence maa in-law thought of this prep as an instant one to be packed for tiffins, during those busy mornings that she had to be ready for...... And was healthy & yummy enough to keep the kids at bay from those luring road side foodies...... 2-3 paratas with a little pickle..... was a day minus the tension, for both the kids & the mother.....
Oh!!!! I wish I was with Kuku & his toli to share a bite too..... to feed a bite & to be fed too.... Hmmmmmm.......... Those days I miss being with KUKU...... :-(
As he told me about this, I thought so what if I wasn't around him those days.... Now that I am... I wanna make use of this time.... to satiate myself..... with all those quickies that I can LOVE & LIVE..... with him.... Hence thought of preparing this for him, with lots of LOVE, with his guidance of course...... :-)
So here I am posting about that "
FAST FOOD
" in its true sense.....
A healthy one though..... for all the mothers & the hungry kids.....
Presenting to you is "
The Aasaan-e-Parata
" ........Dhan Tana!!!!!!!
Ingredients:
Wheat Flour (
ಗೋಧಿ
ಹಿಟ್ಟು
,
आट्टा
) - 250 gm
Oil - 2 tsp
Onion - 1 medium, (
finely chopped
)
Green Chilli - 3 (
finely chopped
)
Ajwain + Mangrela (
Carom Seeds or Oma + Black Sesame Seeds
) - 1 tsp (
I keep a mix of both
)
Salt to Taste
Water as required
Method:
Mix all the above ingredients well & add enough water to knead into a smooth & soft dough. Keep it aside for 30 minutes, covered...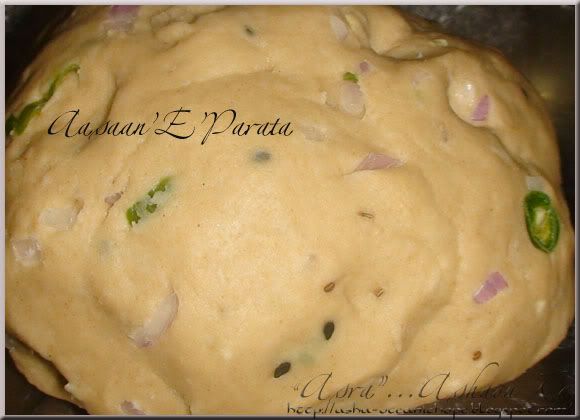 Then make lemon sized balls & with the help of a rolling pin, roll it into flat rounds.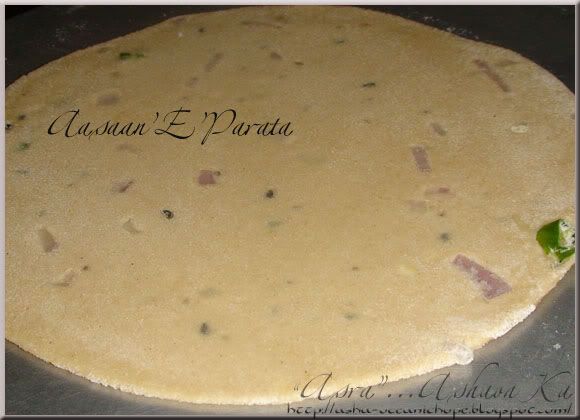 Heat a non stick tawa or a flat iron skillet, & transfer the rolled bread onto it to let it cook. Once a side is done, turn it over to cook the other side... meanwhile spread a little oil or butter on the cooked side & then turn it over again to see it evenly cooked on both the sides... Repeat with the number u wanna have for breakfast, lunch or dinner....
Serve it hot with any accompaniments... u like.... pickle (
अचार
), sauce, chutney or gravy.......
RELISH WITH PLEASING SOUNDS........ Hmmmmmmmmmmmmmm............... & Taste to comment ....;-)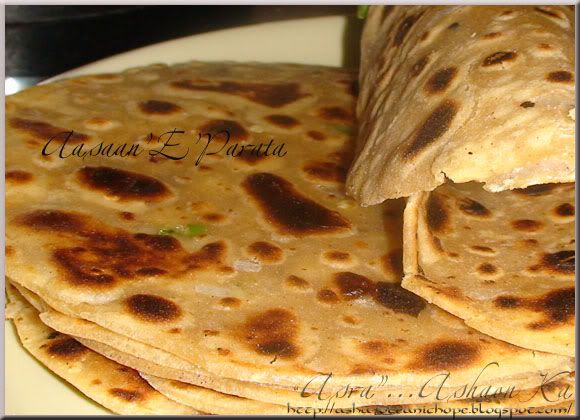 And this prep finds its way to FF7SL's event
HEALTHY FAST FOOD
hosted by RV &
Cook like a Bong
by Sudeshna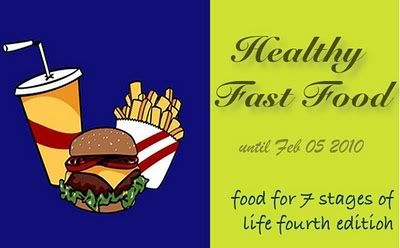 and also makes its way to Gourmet Affair's maiden event
SERVED WITH LOVE
hosted by Arundhuti..... I send this prep with love & wishes to you, Aru.............

BLOGFARES!!!!!!!!!!!!!!! MY TOFA's (Token Of Appreciation)


I was conferred with love & appreciations, by the blog fraternity.... So I would love to take this moment to thank them for their kindness & encouragement......
I would like to thank
Dolly
for she remembered & thought me deserving..... This Beautiful, Blogger Award....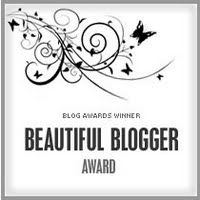 And
Renuka
for sharing this Kreativ Blogger Award......
To my gladness, I was tagged too by my friendly bloggers....... for the first time, of course!!!! And I was happy to exercise this practice ..... And would like to express my gratitude to
Faiza Ali
,
Vineetha
&
The Cool Lass
, for tagging me with the KREATIV BLOGGER AWARD!!!!!!
So it goes as follows.......
Thank the person who tagged u with this TOFA
Flaunt the TOFA, on your blog
Do Not Forget To Link Them with gratitude

Share 7 truths about you, for peeps to know

YOU

Pay it Forward to 7 other Bloggers
Link them too, for convenience

Let Them Know Of This TOFA, through comment



And here I exercise my tag, as below......



SEVEN TRUTHS ABOUT ME:
PERFECTIONIST
- No man is perfect, but one can always try to be ... I'm in my work... I prefer things to be so..... I don't do things just for the heck of it..... I'm a perfectionist in everything I do..... Sometimes irritating others, but I do what I believe is right....
HATE
- I hate double faced diplomacy.... When u know u r right , why should one hide under the sheets of diplomacy???? Why should one be a Hypocrite???? Show the real u... be it good or bad.... Take it or leave it..... Let the world decide..... But don't cream the bitter gourds.... World still loves bitter gourd, for its bitterness.... At least the other person knows what to expect from you...
EMOTIONAL
- I'm basically very emotional.... I cry as much as I laugh..... I am very empathetic. I can feel the pain the opposite is undergoing.... be it physical or mental.... I am emotional about my family.... Very much about Kuku... I always reminisce my past, I feel for my present & expect my future to be emotional too as far as my Kuku is concerned.... I am proud of MY ACHIEVEMENT.....
KARMA
- I strongly believe in KARMA. Good deeds always comes back to you with good..... But situations do surprise me, when they differ, from my belief..... But still believe my belief.....
SHOPAHOLIC
- I have a very gr8 fascination for all good things.... be it unique things of decor or just mere possessions.... I find pride in those.... I fascinate all good clothes, shoes & hand bags..with perfection of course.... I love to adorn my collections with all that is tagged good & unique.... be it books, mugs, jewelery, clothes, handbags, shoes, artifacts, glam decor, ideas, almost everything existing..... from small to big.... Kuku says, he takes me to a hardware store, I would still find something there to suite myself & buy, of course..... LOL!!!!
TALENT
- Very much into arts & crafts (
U know
)..... And arts..... I sing well & did dance well too... of course during college days.... I was always into extra curricular activities.... I love to perform...but again with perfection..... Kuku always says..... "
Baabu mein to talent koot kootke bhara hua hain
"..... which makes me feel so happy that I fly.... ;-)
LOVE
- There are many other things I love too ..... I have a fascination for languages; I loved English a lot, right from childhood, was always interested in Hindi (
which is now my husband tongue
) & knew Kannada too, as it is my mother tongue....
Hmmm.... I love to flirt too.... I do not miss a chance to lock my eyes, with guys who seem interesting..... I simply love that.... & I love sharing those experiences with KUKU..... Life's not complete without some fun in it.... Just like
our food
is not complete, without pickle in it.....!!!!!
GOTCHA????
Should have been seven, but I could not strike this off my list, however hard I tried......
as I talk about my health very often & I should let peeps know that I'm not suffering from CANCER, but something that has eaten me enough...... I am......
'
MENSTRUALLY CHALLENGED
' - The last but not the least is that I am 'M' lly Challenged.... DO NOT READ IT WRONG!!!! Not mentally but may be I would end up being so....Yes! U heard & got it right... I coined that word myself & my doctor appreciated me for doing it.... & few other 'learned' people too....
So I'm PROUD of ALL MY SKILLS & MY WORTH!!!!
Time for PAY IT FORWARD!!!!!!!!
Anybody who blogs, has that thought, it takes to blog.... & the required skills too.... Some of them are extraordinary, some are not so particular about it, some others like me, are trying to catch up everyday..... So it becomes difficult for me to pass it to a limited seven.... but since this TAG demands it..... I here by get these people tagged with it.... (
Believe me it has taken a lot of research & fights with myself...to get into this conclusion........
)
Kindly accept this TOFA............ & help me & all, Know
YOU
............
WISHES & JOY TO ALL!!!!!

UNTIL NEXT, KEEP THE FAITH!!!!!