HURRAY!!!!!!! for I won the "Comment to win a copy of Sanjeev kapoor's Party Cooking Book" contest.......
That was the first time I participated in
the contest
, after checking it, for quite sometime now..... & Yuppie!!!! I won it....!!! I loved it because I would be adding another cook book to my shelf...... & that too of Mr. Sanjeev Kapoor, The Master Chef......!!! I like him because of all the twists & turns he gives to his preparations..... & makes it lovable at the end or rather edible..... which means.... HAPPY ENDING!!!!!! So did my contest..... "
had a HAPPY ENDING!!!!!
"
As usual I opened my mailbox to check out that days communication to me..... And I read all my comments first...HAPPY!!!!! Then directing them to their respective folders, I check the ones that are just informative or fun or "just Garbage"....... & opened this to see who won it...... & VOILA!!!!!!!!! It was me..... The blessed one..... (
at least sometimes I am....
) ;-)
I was so happy to read through it.... I even commented to receive that Tote bag.... which is truly cute & serves the purpose too.... but no regrets..... I love what I got...... OK.....!!!! will write more later.... Lets get down to talk about the prep, I wanted to post about......
I love Beetroots...... !!!!! Is it not that I love almost everything existing?????? It sounds kinda repetitive...... So........... let me say, I adore beets a lot.... The primary reason being, it's color........ It is one vegetable, that is blessed with a bright vibrant color...... Just add this into anything, be it plain curd..... The same old curd would seem to appear happy with that new color it adorns..... Like a NEW BRIDE.... who is all pink, blushing & red in her outfit all gracing that nuptial bed!!!!!!! So does the beet seem to grace the bowl..........!!!!!!!!!!!
During childhood, when mom prepared beetroot pallya, I would take a table spoonful of it, beat it into the curds & enjoyed this combo, like it was my own prep...... a yummy dessert...something like a custard....... I shared & ate the same with a lot of pride......
And as I shared earlier, I get bored very soon with veggies prepared regularly..... It is then I get down to prepare a veggie rice or a pulao...... SO that day I had just a,
kinda dried up beet
, which I did not wanna waste.... So I thought I would add this to the rice & prepare a pulao kinda delight......
Be it whatever, even grass cooked with a little salt, spice & oil would taste yum too..... !!!!!!!!!!
That was how this 'Beet'n Rice came into being.....
Beetn Rice
Ingredients:
Beetroot - 1 medium (
dried...maybe ;-) sorry!
)
Long Grained Rice or Basmati - 2 cups (
I used the regular though
)
Onion - 1 medium, finely chopped
Tomato - 1 small, finely chopped (
optional
)
Ginger Garlic Paste - 1 1/2 tsp
Green Chilli - 1, slit lengthwise
Coriander Leaves - 6 to 7 twigs, finely chopped
Mint Leaves - a handful, finely chopped
Turmeric Powder - 1 tsp
Red Chilli Powder - 1 tsp
Garam Masala Powder - 1 tsp
Coriander Powder - 1 tsp
Cumin Powder - 1 tsp
Oil - 2 tbsp
Water - 1 1/2 cups
Salt to Taste
PS:
May add all the whole spices (
Ghota Masala
) for that rich taste.
Method:
Peel & wash the beetroot, well. Cut them into small cubes & keep aside..... Wash the rice, drain & keep it aside too.
Place a cooker on fire & heat the oil. Now add the slit green chilli & saute for a minute. Then add the chopped onions & fry till translucent. Add ginger garlic paste & stir fry for a minute or two. If adding tomato, then do & fry till it is soft & mushy. Then add the cubed beet & stir fry. Then add the chopped leaves & stir fry further, till all the ingredients blend well. Now add the powdered masalas & combine, stirring at regular intervals. Do not forget the salt......
When all the ingredients have been fried & combined well, add enough water, tighten the lid & wait for 4 to 5 whistles. Remove from fire...... allow the steam to release completely, all by itself...... Now transfer the finally 'Beetn Rice' to a serving bowl....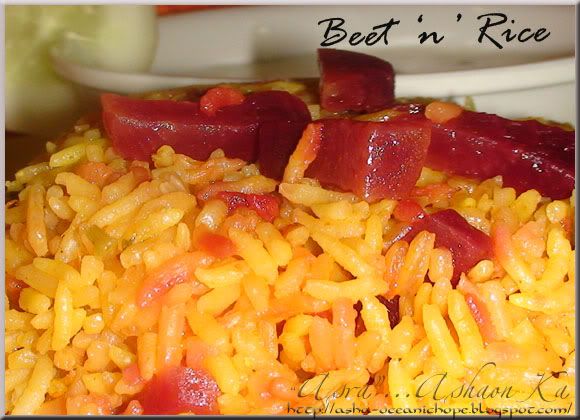 Now for the accompaniment..... goes with anything & everything..... If nothing more is available.... just make a simple raitha.... for it....
Simple Cucumber Raitha
Ingredients:
Set Curd - 1/2 cup
Cucumber - 1/4 cup, finely chopped
Salt to Taste
Method:
Beat the set curd well.... to a thick & smooth consistency. Add the chopped cucumber & salt & mix well, gently.....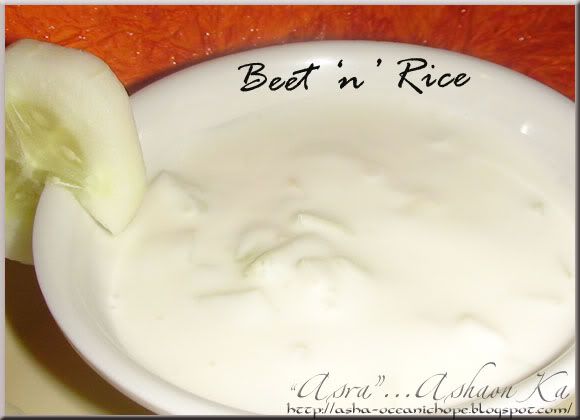 Now serve the above prepared 'Beetn Rice' with this yummy & delectable raitha. Savor with sounds every time you relish a spoonful of this delectable preparation.........
BLOGFARE:
Sailaja
has passed on her Beautiful Blogger Blogfare with her friends..... As I consider myself to be one too, did take a pick......... & I would like to thank her, for being so large heart 'ed & passing on the same.........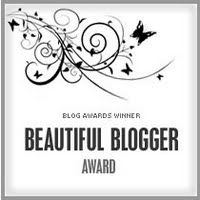 Hmmmmmmm....... But that doesn't stop there...... as I need to announce my
WIN!!! WIN!!! TOFA
, my reward, that I was bragging about at the very beginning of this post......
So this is what
I commented
on the "
Comment to win a copy of Sanjeev Kapoor's Party Cooking Book
" contest! Hope it is clear..... though not CRYSTAL CLEAR!!!!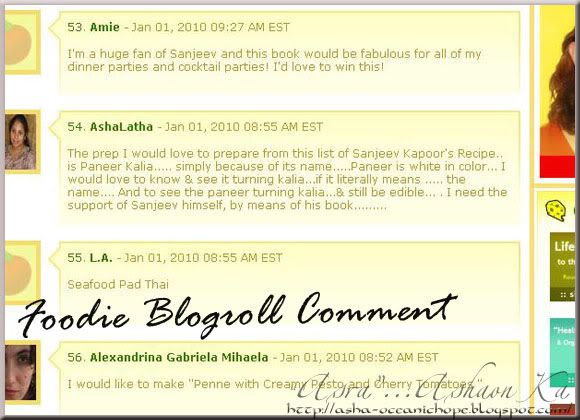 Foodie Blogroll : Contests and Rewards
But as I just read now, it says, to write about it when I receive it...... which I have not..... It's OK..... The day I receive it, I would flaunt it in flesh (pages & cover) & brag about it again, too...... I can always write about things, without falling short of words....... And yes! I love & adore that small & cute little Rewards ICON!!!! Don't you ..............???????????
WISHING ALL LUCK & HOPE!!!!!!!!!

UNTIL WE C NEXT...... KEEP THE FAITH!!!!!!!!! :-)