It's Diwali Time "FINALLY"..... The most, 'sought & looked forward to' festival is the festival of lights.... Everybody from young to old, from the poor to the wealthy, men or women... one & all, await this festival of lights... with much hope... to literally see some change....of the light overcoming the darkness in their life & around them. Many seek the light, that they hoped for after the darkness in their life & for many others it is again total darkness after the gleaming lights are off.
Once again hopes are weaved for the next year, of lights & joy. Some may not like it for their own reasons... but none can ignore this festival....
It is DIWALI again.... let us all celebrate joy & laughter around us, memories to last for your lifetime & even the satisfaction of making someone happy....
"MAKE IT A POINT TO GIVE... ONE CANNOT FATHOM THE 'JOY' IT BRINGS, EVEN AFTER EXPERIENCING IT"
One need not be a millionaire to "GIVE".... Give anything you are capable of with a smile :-)
... MAKE SOMEONE HAPPY.....In my case.... I am quite addicted to it now.... I love experiencing the joy & satisfaction it brings along with some pride. It brings pain sometimes, when I'm not able to. And believe me, "I HATE THAT FEELING".
This Diwali I made an old lady selling Diyas at Bashyam Circle Grounds, happy. Who did u make happy??????????
And when we speak of DIWALI, no Diwali without sweet delicacies.........
When I joined my mom & dad 2 days back, we prepared several delicacies of which other favorites are Akki Unde (
ಅಕ್ಕಿ ಉಂಡೆ, Rice Ball
) & Karajjikai (
ಕರಜ್ಜಿಕೈ, Gujiya
).
Karajjikai is a favorite in Karnataka, prepared with dessicated coconut filling. In the Northern parts of India it is prepared with Khova filling & called as Gujiya, which is popularly prepared at times of the festival of Teej in Bihar.
KARAJJIKAI (Gujiya, Arch shaped Crunchy Snack):
Ingredients:
Dough:
All Purpose Flour (
maida
) - 1/2 kg
Sugar Powder - 1 tsp
Salt to Taste
Hot Oil - 2 tsp
Water as Required
Filling:
White Sesame Seeds (
Bili Ellu, Til
)
Dessicated Coconut - 1/4 kg
Powdered Sugar - 2 cups
Cardamom Powder - 1/4 tsp
Method:
Mix maida, hot oil, salt & one tsp powdered sugar with enough water to knead the flour into a soft dough of roti consistency & keep aside.
Meanwhile prepare a mix of the filling ingredients in another bowl & keep aside.
Now prepare lemon sized balls of the dough & roll it to the size of a poori, with the help of a rolling pin.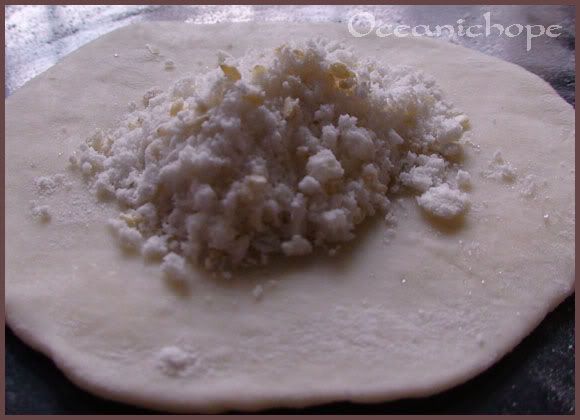 Place a tsp full of the filling mix & seal the dough by pasting the sides, by mere pressing.Seal it thoroughly & take care to see that it does not have any loose ends opened.
Once done, shape the sealed dough with the help of a designed cutter, by cutting the edge giving it an arch shape.
PS:
One can also use the Karajjikai moulds available in the market for this purpose.
Keep it aside & continue the process till all the dough is consumed. Now deep fry these gujiyas till lighter shade of golden brown.
Remove them on an absorbent paper & allow them to cool. Once done store them in an air tight container.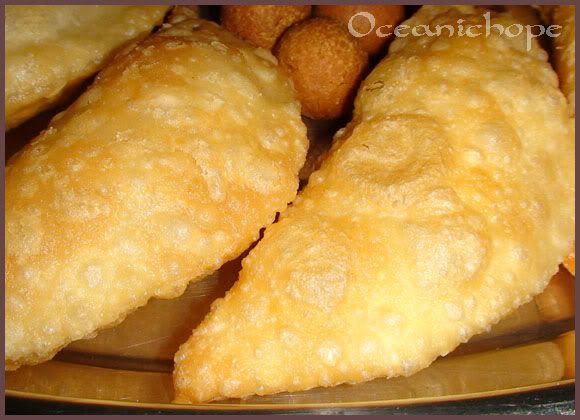 Another my personal favorite is Akki Unde, because of its texture. It is very hard & crunchy. I always loved it, since childhood. I used these to fool peeps who were not aware of the texture of this snack. Peeps were like " Oh! these are going to break my teeth". But I must say, & all those peeps who tasted this are a witness to this that, once tasted you get addicted to the yummy taste of these balls. You would only stop, once your jaws ache.
We often offer people around to taste these & judge their teeth based on how confident they are chewing these crunchy balls.
Very popular among Mangalorean Christians as these are their Christmas Favorites.


AKKI UNDE ( Crunchy Munchy's):
Ingredients:
Raw White Rice - 3 cups
Jaggery - 1/4 kg
Salt to Taste
Coconut Milk - 2 cup
Method:
Wash & soak rice overnight. Grind the rice with milk to the consistency of dosa batter. Meanwhile mash the jaggery & keep aside. Once the batter is half done add the jaggery & grind till you get a finely smooth batter. Now add salt & mix well.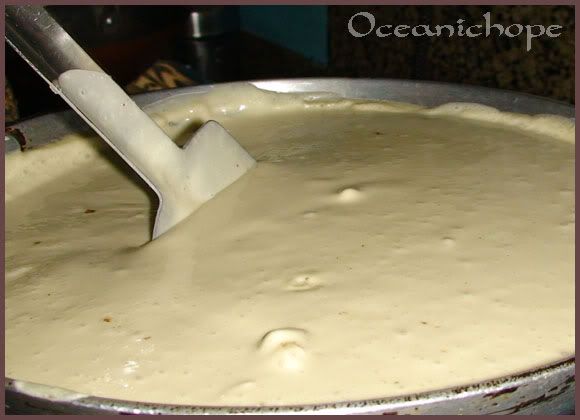 Empty the batter into a wok or a thick bottomed vessel & place it on low flame, sirring contiuously, till you get a thick dough of roti consistency.
Turn off the flame & remove this dough into an airtight container or box.
PS: It is kept aside in an airtight box, to avoid it from cooling down.
Now remove only a small portion of the dough & mix it well to get a lumps free, smooth texture. Make small marble sized balls & keep aside.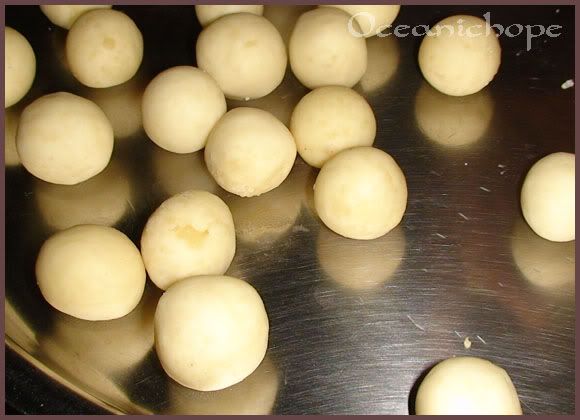 Repeat the process to consume the entire dough.
Now deep fry these balls till chocolate brown.
Remove it onto an absorbent paper & allow it to cool. Store in an airtight container & munch...munch...munch.....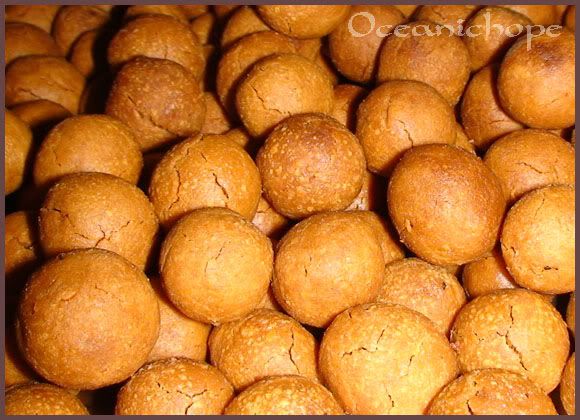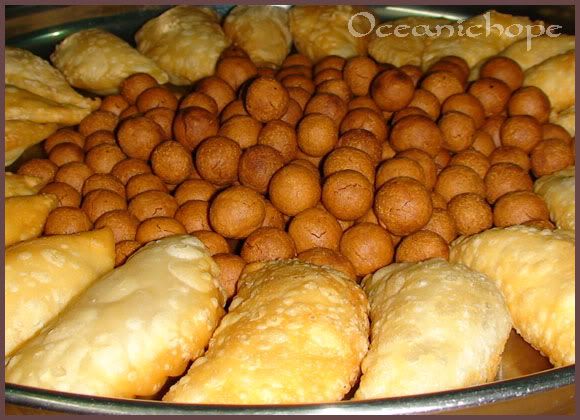 ENJOY THIS DIWALI MUNCHING THIS DELICIOUS DELICACY....HAPPY DIWALI to one & all!!!!!!!!!!!!!!!!!!!!!!!!!!!!!
This Karajjikai & Akki Unde goes to Priya's Feast (Announcing Diwali 2009 Contest)