I just love the kadi that my Maa in-law prepares...the best part of which are the badis in kadi...But since it does not come out well or since I never saw, Maa preparing them..I have no idea of preparing them well. And since I love Kadi a lot, I prepare it without the badi's.....Actually I never saw her prepare the kadi too, but my hubby taught me......
So for me it is Kadi with my buddy minus the badi..................!!!!!!!!!! LOL!!!!!!!!!!!!
KADI
Ingredients:
Gram Flour (
बेसन
, ಕಡಲೆ ಹಿಟ್ಟು
) - 1/4 of your tea cup
Curd - 1 cup (
preferable the set curd, beaten well
)
Curry leaves - 5 to 6, washed & dried
Dry Red Chilli - 2, broken
Cumin Seeds - 1/2 tsp
Salt to Taste
Turmeric Powder - 1 tsp
Asafoetida - a pinch, (
diluted in a lil water
)
Red Chilli Powder - 1/2 tsp
Water as required
Oil - 1 tbsp
Method:
In a bowl mix the gram flour, curd, salt, Red Chilli Powder & turmeric powder, well & keep aside. Heat oil in a wok or a deep bottomed vessel. When the oil is smoking hot, add the cumin seeds & allow them to splutter. Once done add the broken red chilli & curry leaves & stir fry. Then add the asafoetida & stir. Once done add the curd mixture to it with enough water, depending on the consistency of the kadi one requires.
PS:
Kadi consistency would be best, when the measure of curd is greater than that of the gram flour, because, if it happens otherwise, the besan would thicken up the consistency, which cannot be rectified even with water...
Keep stirring at regular intervals, till the sauce thickens to the consistency of a gravy.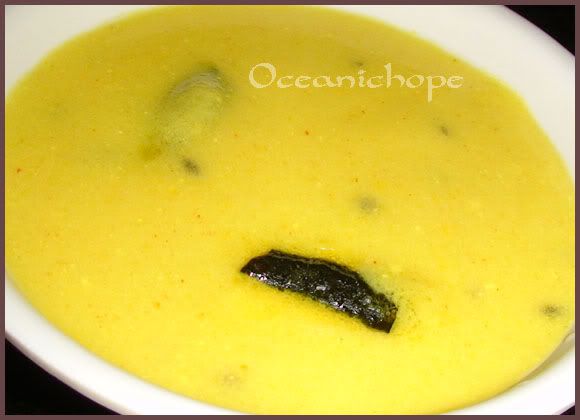 Maa & Bhabi, made several instant side dishes, which went very well with any main course. One would just keep licking their fingers & would not wanna stop, with a limited serve...It left you wanting for more....At least I did...That's the reason, my weight increased soon after marriage...From 47 kg., I increased to 54 kg., Without my knowledge. I loved all that she prepared & she would just kept serving all her love....This additional side dish did not have any major ingre's, but still had the capacity to overdo the main course....
One such side dish was the yum dhaniya chutney maa prepared. I loved it a lot. It would make you eat another serving...
DHANIYA CHUTNEY


Ingredients:
Coriander Leaves - 1/4 of a bunch
Green Chilli - 2
Salt to Taste
Lemon - 1/2
Garlic Cloves - 2 to 3
Oil - 1 1/2 tsp
Water as Required
Method:
Wash the coriander leaves thoroughly & chop them. Half the garlic cloves & green chilli. Now add all these into a mixie & grind them into a fine paste, with a little water. Empty the paste into a bowl, add salt, oil & squeeze the lemon juice....Mix well. You have the yum & tangy tasting, taste buds appealing chutney, ready to be served....
Serve the hot kadi & the spicy, lip smacking.....of course...chutney with plain rice & any dry subzi or bhoonjiya of your choice...
Yummmmmmmmmmmmmmmmmmmmmmmmmmmm.......Hmmmmmmmm.....................!!!! ;-)