I just love mushrooms. In fact everyone does. It looks vulnerable before getting cooked. But once cooked, its look & taste, turns out to be delectable. There are several kinds, but the one's we get easily are the one's available in the market. These are the button mushrooms.
The other day, my maid found some mushrooms on her way back home & she cooked them for dinner that night. The next day she came, she just went bragging about it. During the rainy season it grows on trees & on land. And her bragging, got, me tempting.
And a day after that I found button mushrooms in the market & without a second thought I bought them. I did not know much about preparing this, but still tried. And it was good. It tasted good with plain paratas.
So here I am, with a thought of sharing this recipe with everyone, who is interested.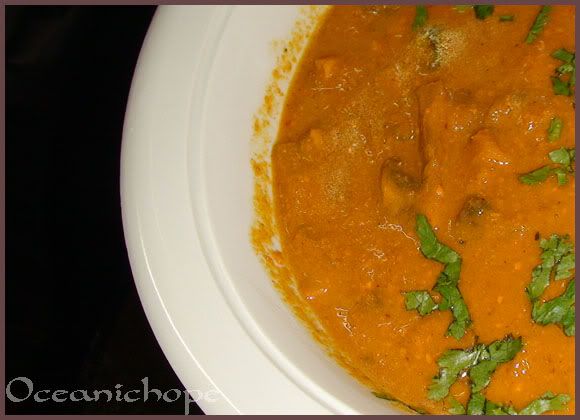 Ingredients:
Fresh Button Mushrooms - 1 packet, (
cut into 1/2 cm thick slices
)
Onion - 1 medium, (
cut into 4 quarters
)
Tomato - 2, (
cut into 4 quarters
)
Cashew Nuts - 10-12
Dry Red Chilli - 2, broken
Food Color - 1/4 tsp
Ginger Garlic Paste - 1 1/2 tsp
Red Chilli Powder - 1 tsp
Coriander Powder - 1 tsp
Cumin Powder - 1 tsp
Kitchen King Masala - 2 tsp
Turmeric Powder - 1/2 tsp
Garam Masala - 1 tsp
Set Curd or Cream- 1 tbsp, (
beaten well
)
Salt to Taste
Chopped Coriander Leaves - 1 tbsp
Water as required
Mustard Oil - 1 tbsp
Method:
Soak the sliced mushrooms in water & keep aside.
Grind the quartered onion & tomato into a fine paste separately. Also grind the cashews to a coarse paste.
Heat oil in a heavy bottomed vessel or a pan. When the oil is smoking hot add the broken red chilli & saute. Then add the onion paste & fry till it turns pink in color. Once done, add tomato paste & stir fry till the oil separates. Now add in the cashew paste & stir fry continously till it releases a flavored aroma. Add all the powder masalas including the salt & stir till all the ingredients blend well & gets fried too.

When done add in the beaten curd & stir. Once the masala separates oil add in the strained mushrooms & stir fry till it gets fried well.

Once done add enough water. Let the gravy be thicker & not too watery. Cover the pan with a lid & allow it to cook, stirring at regular intervals.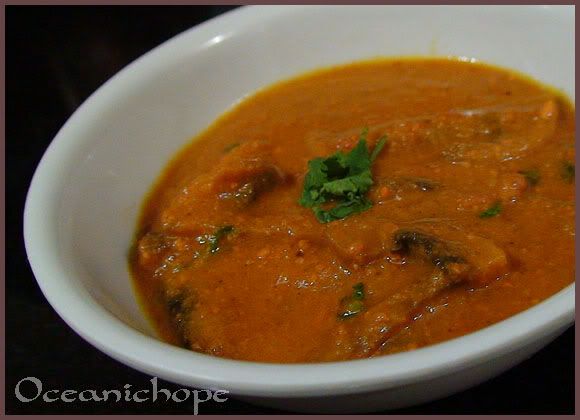 Once the gravy thickens up, turn off the flame & garnish with chopped coriander leaves.


Serve hot with plain paratas or fried rice.