Lobia White, also called as Black Eyed Peas is one amongst my favorite beans.
While in my native Puttur, I got to savor this beans gravy typical Mangalorean style, which my Badimaa prepared. But as we do not use coconut in our day to day cooking & most importantly as I'm not aware of this preparation the Mangalorean way, I just prepared it my way.
Simple with just the powdered masalas, goes well with white rice.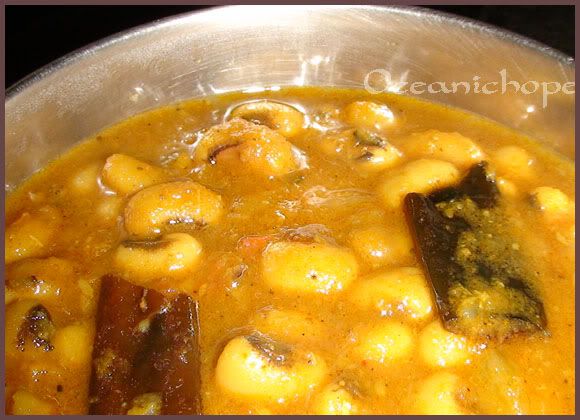 Ingredients:
Lobia White - 1/2 cup,
(Soaked in water overnight
)
Onion - 1 medium, finely sliced
Dry Red Chilli - 2, broken
Tomato - 1 medium, finely chopped
Ginger Garlic Paste - 1/ 2 tsp
Cumin Powder - 1 tsp
Coriander Powder - 1 tsp
Red Chilli Powder - 1/2 tsp
Turmeric Powder - 1/2 tsp
Kitchen King Masala - 1 tsp
Chana Masala - 1 tsp
Salt to Taste
Water as Required
Oil - 1/2 tbsp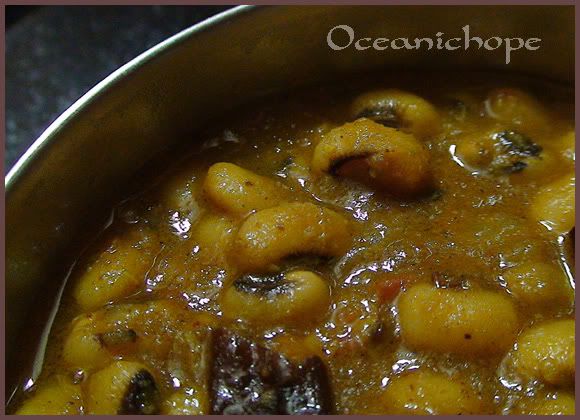 Method:
Wash & strain the black eyed Peas & keep aside.
Now heat oil in a cooker. Once the oil is smoking hot, add the broken chilli. Saute for a second. Now add sliced onions & fry till translucent. Add ginger garlic paste & stir. Then add chopped tomatoes & stir.
Leave it covered lightly, till the onions get cooked. Now add all the powdered masalas & stir well so that the masalas get fried. Once done add the black eyed beans & stir fry for a minute or two. Then add enough water for the beans to get cooked & for enough gravy.
Cover the cooker with its lid & let the whistle blow for 5-6 whistles.
PS:
(
Depends on how long does it take for the beans to get cooked. Because they are hard & they only taste good when they are well cooked
)
Once cooked, remove from flame & let the steam release.
Serve hot with white rice & any other side dish.