Like any other woman, I love mehendi arts too. Since childhood I loved mehendi on my hands. I was very much fascinated by the traditional orange colour Polka Dots, which were very much in vogue then. Every birthday, I made sure that my hands adorned these dots. I felt like a princess then...... When fellow classmates flocked me to see my hands, I felt proud.
Then, the henna was prepared by mom at home. She plucked the henna leaves, ground them into paste & then she would apply the paste to form dots, on my hands with the help of a match stick. And on the tips of my fingers, she just filled them with the paste, which later, when removed or washed would show a dark orange color.
By the way....... that is the original henna color, one gets from the extract of henna leaves. And then, my hands were not friendly enough to showcase the bright orange color of henna.
Since then, with the change in time, the art of mehendi has come a long way. From the pure mehendi leaves extract to chemically coloured mehendi. And since it is chemically coloured, my hands are now able to flaunt the dark color of henna. But as it is "INSTANT", we just buy those adultrated mehendi in cones, like Singh, Haathi etc., etc.,which is easy application & time saving too.
Hmmmmm!!!!!!!! ......... I apply mehendi too, not the kind to match the professionals, but the kind that would be appreciated & admired.
It all started at my work place. As I mentioned earlier I loved this art since childhood, but could not apply the designs, myself. Always had to look forward to someone, who would oblige to apply on my hands or I had to get professional help, when in need. My office (
My First Job
) was a blessing in disguise, except for the distance. I worked for AOL Pvt. Ltd. at ITPL,Whitefield. The distance ate up all my time, I longed to spend with Kuku. I was tired & my health was bad too, to add to my grief. I quit................ Now I'm a happy house wife & a happy blogger. :-)
OMG!!!!! I always tend to get carried away. Where was I going & where did I go??????
At office then, we had less work & more time "on hands" which were free. I hated the idea of chitchatting with coleagues. All I did was to play games online then. I got addicted to it. I thought it was high time I interested myself in something else. And then, my friend, Sandhya, would come to the office with few mehendi designs on her hands & feet. The lights in my brain LIT........ting!!!!!!!!!!!! I thought when she could, why can I not?????? I bought few books on mehendi designs. I carried them with me along with a cone, to the office. I started practising my mehendi application skills, & that, gave me the start I wanted.
"PERFECTION" is the motto of my life. No man is perfect, but one can always try to be.
Since I applied the designs perfectly, my colleagues would lend their hands too. (
What more could I have asked for!!!!
) Blessing again. So then chalpadi.............. I tried different designs from books & net, on my colleagues, friends , my mom & me. When I go to my in-laws, I have many more hands to try my skill on. I had applied on my friend Sharada, on her 'D' day. On both her hands & feet.
And just recently, in the month of May, my brother got married too. I designed on his hands too.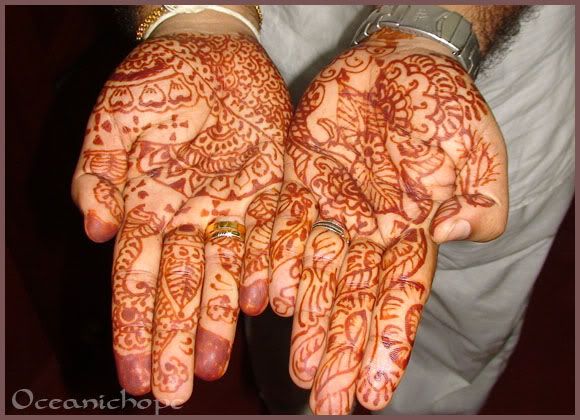 Now I have my new Sis in-law, Jyothi, EXTRA HANDS to decorate.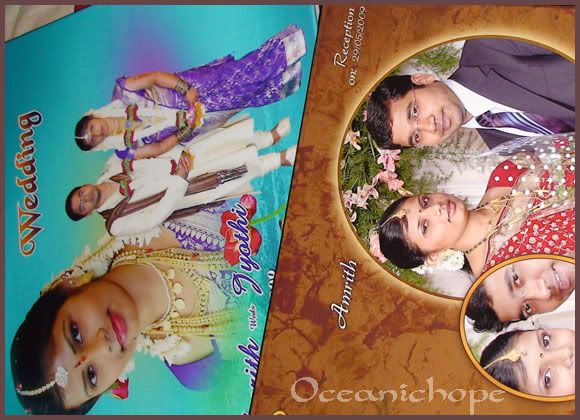 Oh!!!!!!! now people not only admire & appreciate my work, but also want their hands to be decorated by me. I just love to design my skills. The only drawback even now is that I'm still slow, not as fast as the professionals. May be someday I would overcome that too. I keep my mehendi decorated fingers crossed................................