No other Firang (Foreign) Cuisine has influenced our Indian food, as the Chinese Cuisine. We all love, all kinds of Chilli Preparations. For eg., the Gobi Manchurian, Chilli Chicken, Chilli that, Chilli this..... etc., etc., etc., (phew......)

Be it vegetarians or non-vegetarians, all get something of their choice, in Chinese. From the Chinese noodles to their spices & sauces, everything is being used & adapted in our cooking to satiate our palates. The very Cuisine is called as the
Indian Chinese Cuisine
. One can turn any boring vegetable into a Chinese Chilli. We even find & relish their food, in the nooks & corners of our country, in the galis & nukkads of our city, towns & villages. So popular, indeed. The South Indian restaurants have also come up with spring roll & Szechwan dosas.
"
JUST IMAGINE!!!!!!!!!!!!!!!!!!!!!!
" ;-)
No one seems to be getting enough of it. We all love it & in fact it is very tempting too. The very thought of it grabs our attention. We wanna binge more on it. As I mentioned earlier in my prior
post
, as children & adolescents, 'Chinese' is the most preferred & relished cuisine, during eat outs, with friends.
I still love them. And now I try to prepare some Chinese stuff at home. And this time I prepared 'The Chilli Paneer'.
I still remember the first time I tasted this yum preparation.
That was 15 years down the lane, when I just got acquainted with Kuku, my First & Last Love of my life. He had a very talented cook from Bihar, named DHARA. Doing justice to his name were his culinary skills. I think that was my 10th DATE, & I visited Kuku in his BasaveswarNagar Flat. And I got this opportunity of tasting THE CHILLI PANEER, prepared by Dhara.
Very YUMMMMMMMMMMMMMMMMMMMMM!!!!!!!!!!!!!!!!!!!!!!!!!!!!!!!!!!!!!!!!!!!!!
From then onwards I went to Kuku's flat, mostly to taste the yum delicacies Dhara prepared. I would look forward to the breakfast & lunch to be served. After I came home, always lied to my mom, that I had my food in a friends place or a food joint, as she was unaware of my
Kuku
. Aaaaaaaaaah! I simply love those "
CHUP CHUPKE MILNE WAALE
(
चुप
चुपके
मिलने वाले) DAYS".
I miss his talented cooking. Hence, this particular Post is dedicated to DHARA.... My hubby's Cook. God bless his talented & humble soul, wherever he is.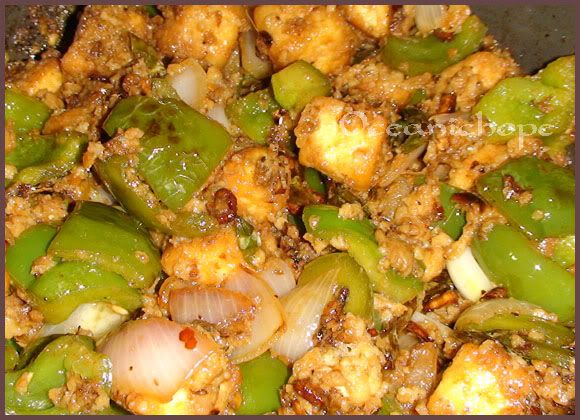 Ingredients:
Paneer (
Cottage Cheese
) - 200 gms (
1 pack
)
To Marinade:
Salt to Taste
Egg - 1 (
optional
)
Corn Flour - 1/2 tbsp
Water as Required
Oil - 3 tbsp (
fry & cook
)
For The Masala:
Corn Flour - 1/2 tbsp
Ginger Garlic Paste - 2 tsp
Onion - 1 medium, quartered
Capsicum - quartered
Green Chilli - 4-5, cut diagonally
Chilli Sauce - 2 tsp
Soya Sauce - 1 tsp
Worcestershire Sauce
Food Color - 1/2 tsp (
optional
)
Honey - 1 tsp
Sugar - 1/2 tsp (
optional
)
Garlic Cloves - 15 to 20, finely chopped
Ajinomoto - a pinch (
optional
)
For Garnishing:
Coriander Leaves - 2 to 3 twigs, finely chopped
Spring Onions - 3 to 4 twigs, finely chopped
Method:
Cut the paneer into cubes. Now make a not so thick paste of the marinade & add in the paneer cubes. Leave for 10 minutes & then deep fry in oil. Remove the fried paneer, when they turn golden in color, onto tissues so as to let the paper absorb the excess oil & keep them aside.
Now heat 1/2 or 1 tbsp oil in a pan or wok. Once the oil is hot add in the chopped garlic, & saute till color turns golden. Now add in the green chilli & saute for a minute. Then add ginger garlic paste & the chopped onions & fry. Do not over do any of the frying process, as it requires to be a little crisp & raw. Then add the capsicums & fry for a minute.
Meanwhile make a paste of all the masala ingre's in a small bowl. Once the capsicums are done add the fried paneer & toss. And add in the masala paste & toss to blend all the ingre's well.
Allow it to cook for sometime & turn of the flame. Now add in the garnishing & toss again.
The Chilli Paneer is ready. Savor it hot with any noodles or rice of your choice. (CHINESE OF COURSE...... Ha...Ha...Ha.....) ;-)