Few days back, my mom found a cat in her bathroom attic. It had come through the exhaust fan space. My folks at home, heard sounds in the bathroom, & they were all scared. When they checked, they saw this kitty seated in a refrigerator carton. From that day, it has become one of them.
I Welcome the "
Catty
" to my mom's home. Very cute, pink mouthed, pink lipped, white teeth, small & playful, energetic, etc., etc., I think 2 days after it came, it vanished suddenly for a whole day & they were all shattered, to have not found it. By night she came back meowing..... She sat, out of the backyard door, licking herself all over & meowing continuously, asking my folks to open the door.
Mom was so pissed, with her. She carried her to the bathroom, bathed her with dettol & then she left her in. From then on they take care, to not let her out.
But when she is with all of them, all that she is interested in is playing. Oh! she just gets you exhausted. Good exercise though.......
One habit of hers, that we all noticed was when she drank milk, she would drink a little & pause & would bite the sides of her pan. And then continue drinking & then pause again & bite & this act continues till the milk is done. They call her "
Catty
". Catty has very sharp teeth & so are her claws. They prick like thorns, which burns later. She is very naughty. Always keen on pouncing. It is very interesting how she watches you from far, waits for the right moment &to pounce on you. Whenever I go to my mom's house, all that I do is play with her to the fullest.
When she is hungry, she just meows her lungs out.
Here are some beautiful pictures of her........... So you can know, I am not lying.
;-)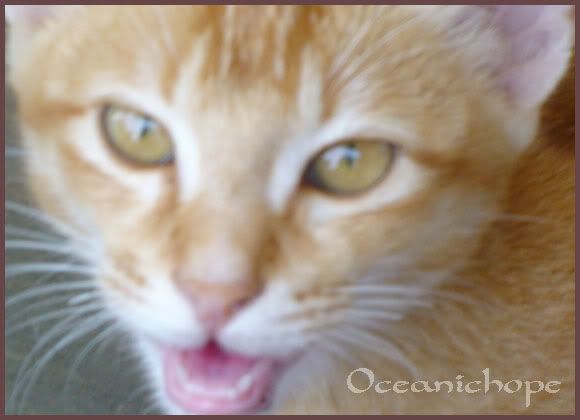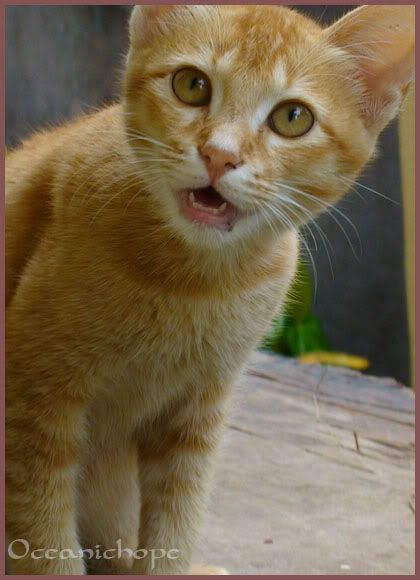 Is She not Cuuuuuuuuuuuuuuuute!!!!!!!!!!!!!!!!!!!!!!!!