As soon as I heard of bitter gourd(ಆಗಲಕಾಯಿ, करेला) being prepared in the kitchen, during childhood, I sulked. The very name got me feeling bitter throughout. Always thought, "how would I be able to complete the formality of lunch, that day.... I had no means to escape"... I wished somebody invited me to their place for a birthday lunch or even a casual lunch...I wished I was held up for some extra curricular activity after school.... but that also meant my share would be kept aside for my dinner...with love.... Either ways I would end up 'bitter'.
My mom used jaggery in the preparation, just for us....to make the bitter, better for us....Still all that I felt was only bitter....As I grew up I stopped running away from it, but just emptied my share as a formality to good health...but I did not like it with jaggery....Even now I do not like jaggery being used in preparing the aagalkai. Now as an adult, I still do not relish it, but don mind having it once in a while...
Now I like what my mom prepares, the same way as earlier but only minus the jaggery...So it's good....I would post that later...
After marriage, when I was with Maa in-law, I tasted her karela dry fry. And I liked it....(
not relish!!!
) It tasted less bitter. And since then I prepare this with ease...as it's simple & just takes some minutes of your time.....
Ingredients:
Bitter gourd - 2, a li'l tender
Onion - 1, big sliced
Dry Red Chilli - 2
Turmeric Powder - 1 tsp
Red Chilli Powder - 1/2 tsp
Salt to Taste
Mustard Oil - 2 tbsp
Method:
Cut the washed karela into thin & round slices. Soak them in water & keep aside... Heat oil in a wok or thick bottomed vessel. Once the oil is smoking hot, add the broken dry chilli & then add the onions.
Drain the water from the soaked karela. Once the onions are translucent, add the karela slices & stir. Now add the turmeric powder, red chilli powder & salt. Stir fry on high flame, till the bitter gourd gets fried.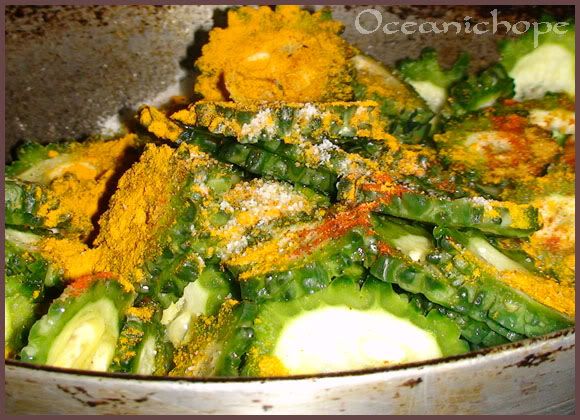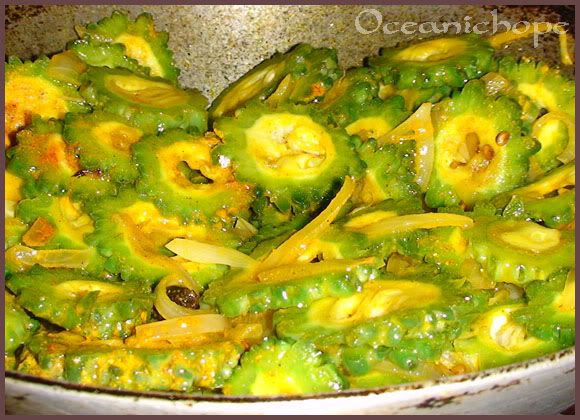 As the size & texture,reduces & softens respectively, reduce the flame & cook it covered, stirring at regular intervals. Remove from flame once done....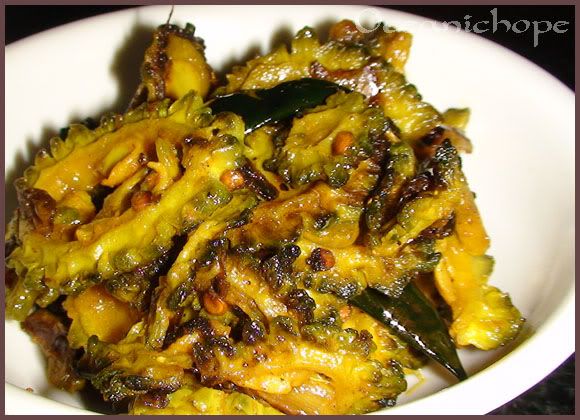 Serve it hot with rice & simple plain dal & relish!!!!!!!!
And yes, last but not the least.... I would like to thank
savvystudios4u.com
, for the new look on my header & sidebar..... THANKS!!!!!!