I'm sorry for not posting anything.... after Diwali.... I was actually relaxing with my hubby.

Looking forward to Diwali.... is the best of all awaiting 's. The excitement it involves in shopping, in preparing for the festival by preparing delicacies, the hope to see your near & dear ones visiting you, the cleaning of every nook & corner of home.... I simply love all this.... And all our talks revolve around the festival of lights....
DIWALI!!!! DIWALI!!!!! DIWALI!!!!!
& it's gone past now. Now look forward to the next year. Time flies like .............. I don't know what.........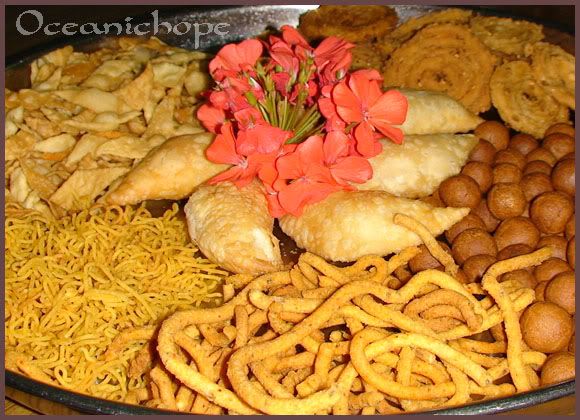 Our Diwali celebrations were really a joyous occasion. I almost met mt parents & folks everyday for a week... for shopping, for preparing Diwali delicacies, & celebrating the 'D' day. I enjoyed every moment of those. The only sadness was I could not visit my in-laws.... Maa & Papa..... I miss them a lot... Yesterday was the first day of the ARAG (
अरग
) of the Chatt festival at my in-laws... & tomorrow the final Arag for the God of the Sun. I love to be there with my family, as it feels good to help around...to be there to see it all.... to visit my sis in-laws... & their cute, naughty kids... I hope & keep my fingers crossed...to be able to make it to Ranchi, for the festival, next year... May God bless me....
The first day of Diwali was the festival at my hubby's place, so it is the festival for us to celebrate... But that day since I had to visit my parents for dinner.... We just performed a quick pooja, where I sang 2-3 bhajans..... lit those diyas & decorated them around my home.... And my maid Jaya & her mom, helped me with decorating the diyas outside... that is on our compound wall & terrace...
That morning my maid applied a simple & neat rangoli, if not an outstanding one, & in the evening she lit the diyas. As it involves all the mess with oil dripping, she helps me out every year with lighting those diyas outside. After that we just burst a few crackers which included sparklers & flower pots... some 3-4 & we left to visit my parents.. We burst a few crackers there, dined together & came back.... tired & just crashed...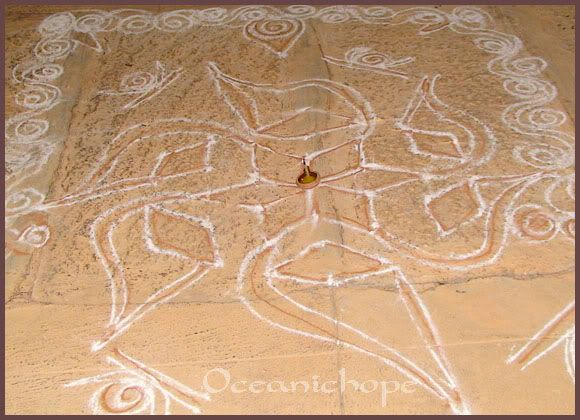 Next day was supposed to be a small Diwali for us & bigger one for my parents. But then they were to visit us that day... Since we missed the first day we thought of really making it a celebration at home... We prepared for the pooja in the evening... & even for the dinner.....
My parents came home...I did the cleaning around & decorating & preparing for the pooja...I made small rangoli in a small area & decorated it with a wide mouthed pot, which was in turn decorated with flowers & floating candles & of course my Daadi's (
Avva (
ಅವ್ವ
) - as I called her
) DIYA...an old antique piece....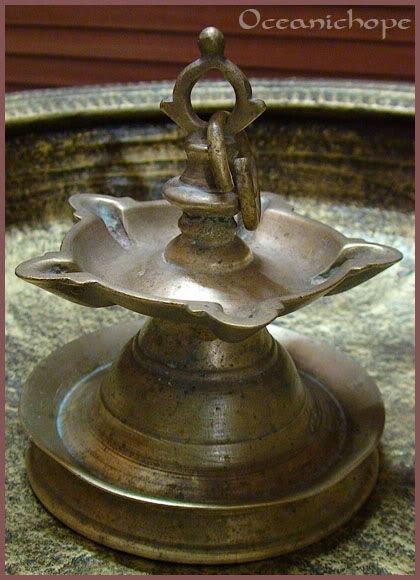 Evening at about 6:00 pm, we sang full fledged bhajans, with so many in the chorus, it sounded good. Then we lit the diyas around & burst crackers for solid 2 hours..... We were all dead tired of exercising around in the process of bursting crackers... I do not burst any, other than sparklers & flower pots, but I'm tired because of my running around from the sound & crackers... that my brother bursts... Then it was time for dinner... My hubby helped me around in the kitchen... We prepared Pooris, Aloo Gobi Subzi & Rice Kheer. My brother was full on feasting on pooris & alu gobi.... My Maami, Kusum, visited us & she was so happy to be with us during the festival. After that yum dinner, we craved to drink a cup of tea & I offered to prepare tea for them...
After that tiring day, they left to their place & me & Kuku, were totally exhausted & crashed again.... Since my Maami was to leave to Mangalore, the next day, mom prepared chicken at home & we were invited for lunch.... We visited them again for lunch & returned back home, late evening. After we came back, I just lit few diyas around & just sat back to relax & called my Badimaa at Puttur, wished her & had a hearty chat with her.......
Hence we spent this Diwali, visiting, revisiting, calling, friends & family.... I would treasure these moments for the rest of my life.... My only sadness being not able to visit my in-laws.
THUS ENDED THE JOYOUS CELEBRATIONS OF DIWALI!!!!!!!!!!!!!!!!!!
This Diwali Dhamaka goes to Purva's event (
Indian Festive Food-Diwali Dhamaka
)